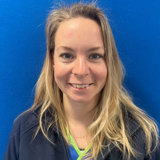 Small Animal Vet
Charlotte Biddle
Graduating from the University of Bristol in 2014, I spent my first year working in mixed animal practice before concentrating on small animals in the South East of England.
My partner was brought up in Pembrokeshire before he left to join the military. He introduced me to this most beautiful part of the world and it wasn't long before we were drawn to settle here.
We have a handsome Husky called Tarly and a crazy Border Collie called Bella.
My passion is animal welfare and treating and caring for all animals.
In my free time I love cycling, sailing, diving and I am learning to surf.
I really look forward to meeting you and your furry/feathered or even scaly friends!