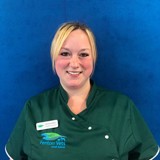 Registered Veterinary Nurse
Michelle Stafford
I gained my degree in veterinary nursing from Harper Adams University, graduating in 2009.
Although I love all animals I have a particular passion for cats, birds and rodents.
At home we have 2 cats, 2 rats, 2 rabbits, 2 cockatiels, 1 budgie and 1 dog! They keep me pretty busy as do my 2 children.
We enjoy outdoor time, particularly the lovely Pembrokeshire beaches.