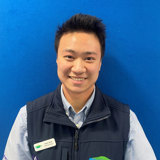 Small Animal Vet
Shen Sheh
I am a 2022 graduate from the Royal Veterinary College, London. After visiting a colleague in the area, the rural landscape of Pembrokeshire and friendly culture at Fentons charmed me to stay.
My motivation to study veterinary was to look after the welfare of our furry friends, and to honour the human animal bond. With particular interest in surgery and emergency medicine, I look forward to serving and connecting with the community.
I am still finding my feet around this part of town, so you may see me wandering along the coastline or trying out new hobbies!