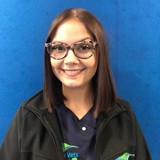 Stock Control / Administration
Simona Znaidauskaite
I started working at Fenton Vets in September 2019 as stock control and administration assistant.
Previously I was working in a chemist where I have gained a lot of experience when it comes to different medicines and stock maintenance. I am super excited to be learning more when it comes to veterinary side of pharmaceuticals.
When I'm not at work I am usually outdoors with my family. My household can be full of energy with my beautiful boys, my son Leo and Dexter who is a Shar pei.